The Nogales Apaches came a short time Tuesday in their quest for a state baseball championship, losing 3-2 to the Verrado Vipers in a suspense-filled 5A Conference title game at Tempe Stadium. Devil.
Nogales, seeded No. 1, fell 1-0 down in the top of the fourth set, then came back in the bottom half to take a 2-1 lead. But Verrado, the No. 3 seed, used two sacrificial flies in the top of the fifth to go up 3-2, then held the Apaches scoreless through the final three innings to claim the win.
"We did everything we could to prepare, and we kind of knew their game plan," NHS director OJ Favela said afterwards. "Defensively we executed a lot of things early on that we really worked on because we knew they like to run and they like to put pressure on. Our kids handled it well but we kept playing with it. the fire by letting people get on the base, and they finally understood us.
Nogales' likely starting pitcher for the game, senior Roman Bracamonte, was unavailable after suffering an arm injury in the semifinals. So second-year southpaw Sal Valenzuela, who had already won two playoff games, got the nod and kept Verrado scoreless for three.
However, it was not easy.
In the first inning, Verrado's leadoff batter singled and, after a fly ball, stole second and went to third on a pitching error. But the next batter tried to bunt and pounced on first baseman Raenan Padilla. Then, with two saves, shortstop Demetrio Crisantes made a backhand catch and started the race to emerge in the final first.
The Vipers got their first batter in the second inning on a walk, but Valenzuela quickly picked the runner first. The next batter blooped a right double, but Valenzuela got the next two outs on a strikeout and a flyball left.
In the third, Verrado placed the runners first and third with one out. But Valenzuela caught the runner leading too far first, which led to a brief preview that ended with Padilla shooting through the diamond to catch the runner on third. The next batter walked, but Valenzuela got the last batter out.
Verrado finally broke through in the fourth. After two singles sandwiched around a strikeout, runners finished first and third, Valenzuela again picked runner first. But just when it looked like Nogales might escape the jam, Verrado third baseman Brenden Velez scored an RBI brace to score the game's first run.
Valenzuela moved the next batter to second to end the inning. It was the last batter he faced, ending his day with four one-run innings.
"Sophomore year, you can't ask him any more," wide receiver Thomas Teel said of his teammate. "He went out there and he did his job. He gave us a chance to win it. But, on our side in attack, we did not execute.
The NHS batters had their hands full early on with Verrado senior right-hander Joseph Perez. In Verrado's four tournament games leading up to the championship, Perez pitched three of them, winning all three while allowing only one earned run, 10 hits and three walks in 20 innings pitched.
On Tuesday, Perez held Nogales hitless through the first three innings, allowing only one walk in the second and a batter with a hit in the third.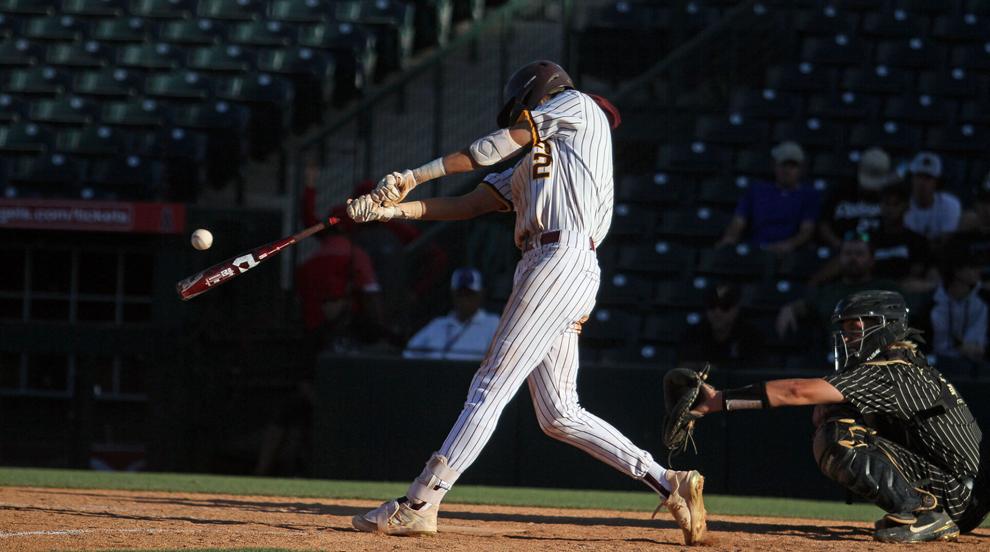 "He was hot. When somebody's hot, it's hard to stop them," NHS third baseman Derek Montijo said of Perez. "And the guy just had confidence. He had confidence in himself and confidence takes you far.
Montijo was the first NHS batter to get a hit from Perez, ripping a single to lead in the bottom of the fourth. He stole the second, then came in to score on a left-hand single from Teel which tied the game at 1. Alan Durazo, running for Teel, stole the second, went to third on a Sergio Valverde single and scored on a savage. throw to make 2-1 Nogales.
Valverde moved up to third place on a Padilla pitch. The next hitter, Julio Ramos, ripped a line drive — but straight into the glove of perfectly positioned second baseman Verrado. Perez got the next batter on the ground to end the inning.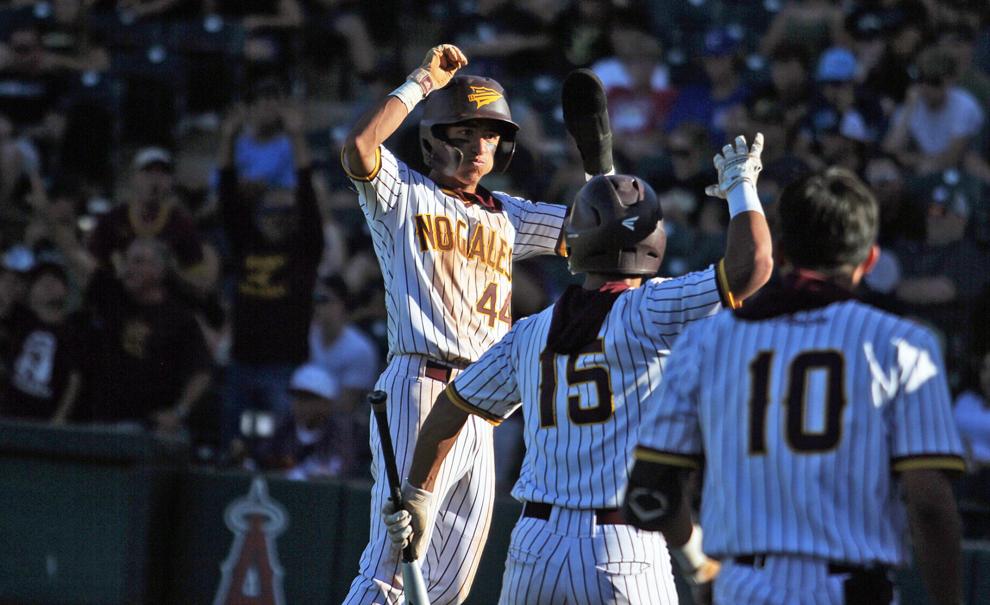 Saul Soto came on as relief for the Apaches to start the fifth inning, and a tee walk and two-base error put Verrado's runners in second and third with no one. Both runners scored on back-to-back sacrificial flights to the right.
Soto put the Vipers down the rest of the way, ending his night after going three hitless innings. He struck out four and walked three.
After his eventful fourth inning, Perez settled back in and held Nogales scoreless for the next 2 2/3 innings. But with two out in the seventh, he walked Luis Martin Romero to reach his throw limit.
"We wanted to sign some guys early, but he did a good job," Favela said of Perez's performance. "The strike zone was tough for our guys to manage, and that made us a bit aggressive in chasing some shots."
With the large contingent of NHS fans chanting NO-GA-LES and the Verrado side of the stadium cheering for the final, Thomas Chiappetti came on as relief for the Vipers and earned the final out on a strikeout.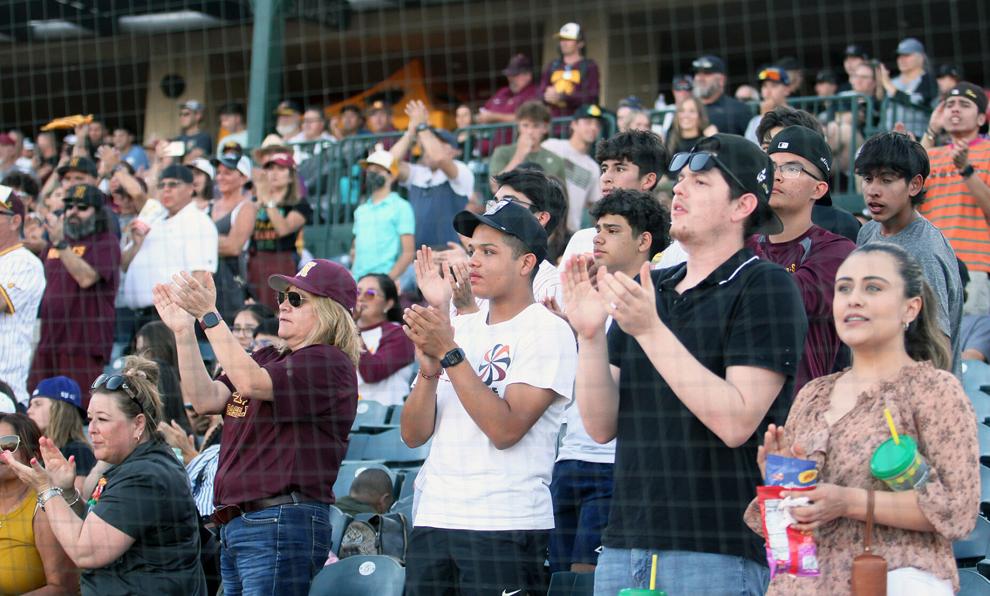 "A loss is always a way of looking at the things you've done wrong, a way of evaluating yourself. And I just think we have to let it hurt for now, but be back and ready to go again next year. said Montijo, a junior.
"There is a job that is not finished. And all of us underclass are trying to do this work," he said.
Teel, the junior receiver, concluded his remarks about the team's lack of offensive execution with a similar sentiment. "We'll be back," he said.

Nogales earned the No. 1 seed in the 5A Conference tournament by finishing the regular season with a perfect 18-0 record (they also went 9-2 in two midseason tournaments that don't count in the Arizona Interscholastic Association ranking).
They opened the playoffs at home on April 30 with a 9-3 win over No. 16 Sunnyside.
Playing at home again in the second round on May 2, the Apaches defeated Desert Mountain 5-1. Three days later, they shut out No. 4 Sunrise Mountain 8-0 at Tempe Diablo Stadium to reach the semi-finals.
Desert Mountain then took down Sunrise Mountain 7-2 in a losers game to earn another shot at Nogales – then beat the Apaches 5-3 on May 11 at Hohokam Stadium in Tempe.
With the tournament still in its double elimination phase, the teams met the following night in Mesa. This time, Nogales turned things around and won 5-3 to reach Tuesday's knockout championship against Buckeye's Verrado, who went 15-2 in the regular season before going 5-0 in the tournament.
It was the Apaches' fourth trip to a state final in the past five years that a high school baseball state championship tournament has been held in Arizona.
In 2017, the NHS ended a 36-year championship drought by beating Salpointe 13-4 in the 4A Conference title game.
In 2018 they beat Catalina Foothills 3-2 in the final match to repeat as 4A champions.
The following year, their first in Conference 5A, Nogales met Horizon in the state finals and lost 7-4 in a 16-inning marathon game.
There was no state championship in 2020 due to the COVID-19 pandemic, and the No. 6-seeded Apaches were upset in the first round of the 2021 tournament by No. 11 Apollo .
As for Tuesday's one-point loss, Favela said no play made the difference.
"It never comes down to one game. It rarely comes down to one play. I mean, you have so many plays during the game. We had three unexpected errors from people, but at the same time we are here because of them," he said.
"Unfortunately, it didn't go like us today and it's not for lack of effort. It wasn't because they didn't care… These guys put their hearts in every moment together.